RE Ginna Nuclear Plant - New York State
---
Rochester Gas & Electric's Robert E Ginna Nuclear Plant is located on Lake Ontario east of Rochester, New York. This single unit plant consists of a Westinghouse 2 Loop Pressurized Water Reactor with generator rated at 490 MWe. Commercial operation started in 1970. Ginna is similar to the Point Beach, Kewaunee, and Prairie Island units.
In the photo, the Screenhouse is located near the lake. Circulating water pumps pump water through the condenser and back to the lake. The Turbine Building is the long green building and the containment is the taller structure. Inside the turbine hall is the turbine-generator. The hemispherical containment is surrounded by a facade.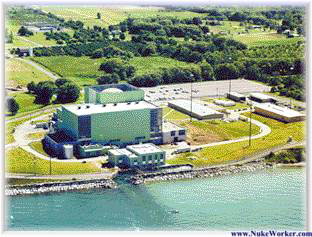 Courtesy Nukeworker
A number of simplified diagrams illustrating the design of this pressurized water reactor plant (courtesy Westinghouse) are provided on the PWR Cycle page.
See the US plant address, plants, and map pages for more information.
---
Copyright © 1996-2006. The Virtual Nuclear Tourist. All rights reserved. Revised: January 11, 2006.