Kewaunee - Point Beach Nuclear Plants - Eastern Wisconsin
---
The Kewaunee-Point Beach units are located on Lake Michigan north of Two Rivers and Manitowoc. Each unit has a Westinghouse 2 Loop Pressurized Water Reactor (PWR) (for more on the PWR plant cycle). All 3 units are operated by the Nuclear Management Company based in Hudson, Wisconsin. The Kewaunee facility is located approximately 5 miles north of the 2 unit Point Beach facility.
Owners, Current Unit Output, and Commercial start dates are:
Kewaunee
| | |
| --- | --- |
| | Kewaunee in summer with the substation in the foreground, auxiliary building and containment in the background. |
| Kewaunee in winter as viewed from State Highway 42. | |
Point Beach
In the photo, the Turbine Building is shared between the 2 units, unit 1 to the left. The Reactor Cooling System is located in the containment. The 2 containments are the tall buildings behind the Turbine building. Click for a daytime photo showing the plant layout (93K)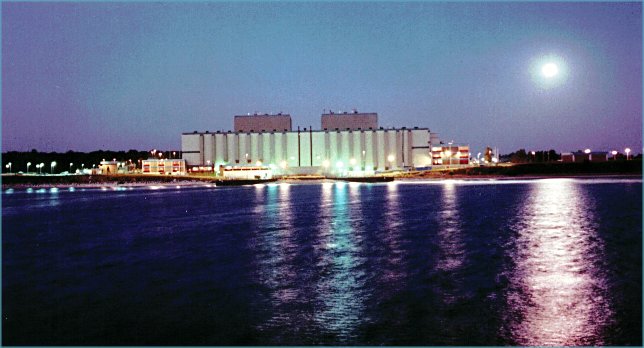 Courtesy WEP
Specifics on various plant systems including drawings are available in the NRC plant information books for:
---
Copyright © 1996-2004. Joseph Gonyeau, P.E.. The Virtual Nuclear Tourist. All rights reserved. Revised: March 15, 2001.