The Virtual Nuclear Tourist !!! Nuclear Power Plants Around the World

Control Room - Pressurized Water Reactor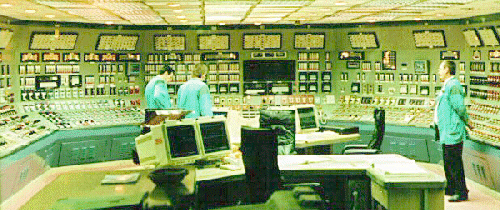 Photo by J.A. Gonyeau
A compact control room design is used for many of the Westinghouse 2 Loop Reactor facilities used throughout the world. This control board has a horseshoe shape. The control panel is usually divided into three parts:
Secondary Cycle Systems - circulating water, condensate-feedwater, turbine-generator and support systems.
Reactor, Reactor Coolant, Steam Generator, and Reactor Control Systems - includes reactor coolant pumps, indication and controls for the control rods and steam generator and pressurizer level and pressure, nuclear instruments that monitor reactor power.
Reactor Coolant Support and Emergency Systems - Normal makeup, Emergency Core Cooling Systems.
The annunciator (alarm) panels are located along the top to alert the operators to potential equipment problems or unusual conditions.
This picture is taken from the vantage point of the supervisor, who often supervises 2 or 3 control room operators. The control room operators in many countries are licensed by the regulatory agency. These operators perform tests of emergency equipment to ensure that it will operate when needed. The licensed operators are required to complete ongoing requalification training and simulator emergency drill training throughout the year. A plant will normally have 5 or 6 operating crews who operate the plant around the clock. Each crew spends part of their 5 or 6 week cycle on each of the shifts - days, afternoons, and midnights. At some plants, operators may work two-12 hour shifts (e.g. 3 days one week and 4 the next).
---
Copyright © 1996-2004. Joseph Gonyeau. All rights reserved. Revised: August 23, 1999.