North Anna and Surry Nuclear Power Plants - Virginia
---
The North Anna and Surry power plant sites are located in Virginia near Norfolk. Each site has 2 Westinghouse 3 Loop Pressurized Water Reactors. All 4 units are owned and operated by Virginia Power, based in Richmond, Virginia.
North Anna
Each North Anna unit is rated at 947 MWe. The 2 units were started in 1978 and 1980. NRC Books - North Anna 1 - North Anna 2.
Surry
Each Surry unit is rated at 823 MWe. The 2 units were started in 1972 and 1973. In the clearing half-way up the figure is the spent fuel storage cask facility. A canal is used to take water from the James River.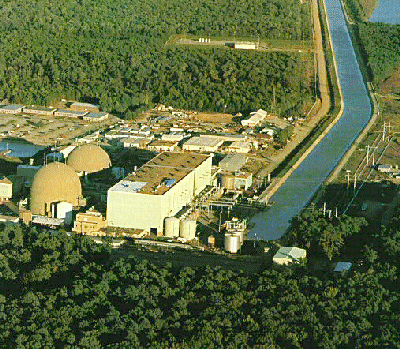 Courtesy American Nuclear Society - Nuclear News
A number of simplified diagrams illustrate the design of this pressurized water reactor plant (courtesy Westinghouse).
Emergency equipment for each unit include:
2 Low head injection pumps rated at 3000 gpm @ 165 psi supplied from the 399,000 gallon Refueling Water Storage Tank.
3 High head safety injection pumps rated at 150 gpm @ 2584 psi with a shutoff head of 2673 psi supplied first from 1 of 2 - 7500 gallon Boric Acid Makeup Tanks, and then from the 399,000 gallon Refueling Water Storage Tank.
1 Accumulator containing 10,000 gallons and pressurized to about 750 psi is connected to each reactor coolant loop.
2 motor-driven (100% capacity and 1 turbine-driven Auxiliary Feedwater pumps supplied from a 126,000 gallon Emergency Condensate Storage Tank, 100,000 gallon Emergency Condensate Makeup Tank, Fire Protection System, 300,000 gallon Condensate Storage Tank, and a cross-tie to the second unit on the site.
3 Diesel generators (only 2 needed) for each unit; 12 KV Standby Startup Transformer can be fed from either unit.
Ultimate Heat Sink - Supply to ECCS Service Water System is James River.
NRC Books - Surry 1 - Surry 2.
---
Copyright © 1996-2004. Joseph Gonyeau, P.E.. The Virtual Nuclear Tourist. All rights reserved. Revised: March 15, 2001.